These nozzles are designed to be installed in groups or zones of protection and operate simultaneously to rapidly extinguish high intensity oil fires. The type of nozzle, the flow rate, and discharge angle is determined by the type of risk involved.

These groups of nozzles are linked to a detection airline and a Deluge system control valve. In the event of a fire, the devices in the detection airline operate to release air within the system. This in turn operates the Deluge system control valve, which opens to discharge water simultaneously through all the open nozzles within the protected area.

High Velocity Water Spray Nozzles are internal swirl plate type open nozzles designed for use in fixed water spray or deluge system for the fire protection application.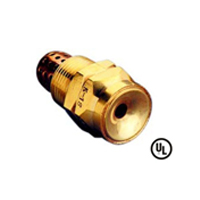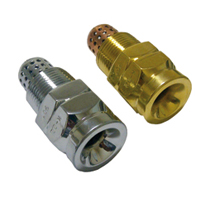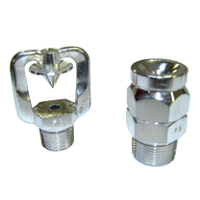 | | | |
| --- | --- | --- |
| MAXIMUM WORKING PRESSURE | : | 12 Bar (175 PSI) |
| EFFECTIVE WORKING PRESSURE | : | 3.5 - 10.5 bar (50 - 150 PSI) |
| END CONNECTION | : | ¾" BSPT, (¾" NPT OPTIONAL) |
| INCLUDED WATER SPRAY ANGLE FOR EACH K-FACTOR | : | 140°, 120°, 110°, 100°, 90°, 80° & 65° |
| ORIFICE SIZE AND MM (INCH) METRIC (US) | : | |
| K-FACTOR | : | 75° - K22 |
| | : | 80° - K18 |
| | | 80° - K32 |
| | | 100° - K26 |
| | | 115° - K42 |
| | : | 120° - K23 |
| FINISH | : | Brass finish, Chrome plated Brass (Optional) |