A Fire Alarm Control Panel (FACP) / Fire Alarm Control Unit (FACU),
is an electric panel that is the controlling component of a fire alarm system which is installed at various places as a protective measure against fire; sounds an alarm when actuated by a fire detection system. Fire Alarm System is essential to warn all occupants that a fire or emergency situation exists. Sometimes fire detection and alarm systems are used to compensate or to give special cover for items of high value. In case of fire early detection of smoke and heat helps in fighting the fire effectively & extinguishing it in nascent stage. Thus by early detection, we can prevent the fire from spreading in turn saving life and loss of property and business.
Whatever the reason, an automatic fire detection and alarm system generally provides a network of manual call points, fire sensors and alarm warning devices over the area covered. It is, in effect, the eyes and mouth of the building to constantly monitor the building and warn if a fire breaks out, or is suspected in the way we do, if we see flames or smell burning.
Types of Fire Alarm system:
• Conventional Systems are used for small installation as it becomes cost effective and also serves the purpose of safety and location identification is easy.
• Addressable Systems are used for high ends like hotels, hospitals, high rise buildings, BPO's etc. The system gives you pin point location of detection and complex operations are also possible such as HVAC trip off, lift management, access control door release etc
Components of the System:
• Fire Alarm Panel
• Detectors (Smoke / Heat / Multi / Beam / Flame / UV IR / Gas / Etc)
• Manual Call Points
• Panic Switches
• Hooters
• Cable and Instrumentation
• Linear Heat Sensing Cables
The panel receives information from environmental sensors designed to detect changes associated with fire, monitors their operational integrity and provides for automatic control of equipment, and transmission of information necessary to prepare the facility for fire based on a predetermined sequence. A fire alarm control panel is required under the building code for a majority of new commercial building construction in most countries....
Operational Information
Fire Alarm System (Addressable):
Analogue Addressable Fire Alarm Systems differ from conventional systems in a number of ways and certainly add more flexibility, intelligence, speed of identification and scope of control. For this reason Analogue Addressable Fire Alarm Systems are the natural choice for larger premises and more complex system requirements.
These systems consist of a central control panel to which smoke alarms and heat detectors are connected, along with bells or horns that are activated when the system triggers an alarm. The control panel operates from house power but also usually contains an emergency battery which can operate the system for about 24 hours during a power outage. Addressable panels are usually much more advanced than their conventional counterparts, with a higher degree of programming flexibility and single point detection.
Panels usually have a number of signalling line circuit loops - usually referred to as loops. Depending on the protocol used, a loop can monitor and control several hundred devices.
Each device on a SLC has its own address, and so the panel knows the state of each individual device connected to it. Common addressable input (initiating) devices include: Detectors, MCP's, Warning System/Bell Relays, Activating fire suppression systems, etc.
A typical Analogue Addressable Fire Alarm Arrangement: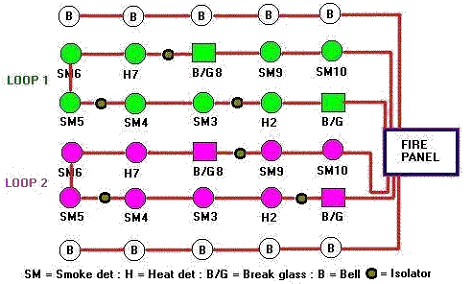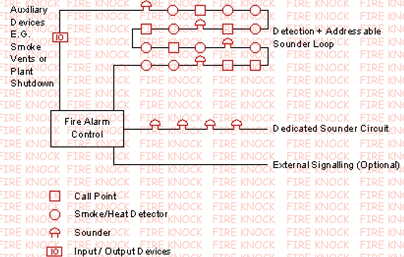 Basic System Functional Operation:
In an analogue addressable system detectors are wired in a loop around the building with each detector having its own unique 'address'. The system may contain one or more loops depending upon the size of the system and design requirements. The Fire Control Panel 'communicates' with each detector individually and receives a status report e.g. Healthy, In Alarm or In Fault etc. As each detector has an individual 'address' the fire alarm control panel is able to display/indicate the precise location of the device in question, which obviously helps speed the location of an incident.
Sounders may either be conventionally wired or by using addressable sounders, wired upon the "loop" thereby making considerable savings in terms of cable and labour.